We mobilize change to meet the demands of an increasingly complex world. We listen closely and always customize our approach for each client. We see ourselves as trusted partners and treat our client relationships as sacred. At the core, in almost every one of our engagements, there are three competencies we put to use regularly:
---
ENGAGEMENT
Harnessing the wisdom and commitment within organizations and the systems in which they live.
SOCIAL INNOVATION
Suspending assumptions and immersing teams in promising environments to enable people to regenerate the ways they see their work and the ways they work together.
COLLECTIVE ACTION
Aligning people, processes and systems around shared vision.

The feedback we get is that we are different from other consultants. Our approaches are novel and clients tell us they appreciate our stance. They like that we provide guidance where it's needed — leading the change process — and that we "stay out of the way" where we aren't needed — making the substantive decisions about an organization's future.

The framework that unifies our work comes from Otto Scharmer and colleagues at MIT. "Theory U" was developed after interviewing over 150 leaders of profound change in a variety of disciplines. For more information on Theory U and the Presencing Institute go to www.presencing.com. Both Liz and Marie are senior practitioners with the Presencing Institute, graduates of a two-year master class and members of the PI Practitioners Circle.
---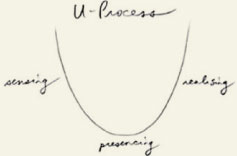 On the "left side of the U"(SENSING) we clarify core questions and key assumptions; immerse ourselves in environments that provide insight to those questions and test assumptions; and hone our observations.
At the "bottom of the U"(PRESENCING) we create the conversations and the quiet needed for collective inner knowing to emerge and to be crystallized.
On the "right side of the U"(REALIZING) we engage head, hands and heart to act toward shared intent through prototyping and action.
---
On the Theory U framework we "hang" the methods and practices that make the most sense for your organization's needs. We have found that applying our expertise within this frame has resulted in powerful results – over and over again.
Our approach will continue to grow and evolve with the changing needs of our clients in response to a world that poses new and more complex challenges each and every day.

MOBILIZING CHANGE FOR A COMPLEX WORLD