Get Georgia Reading Collective Impact 
In 2012, leaders in Georgia, including the governor, the business community, foundation leaders and education leaders had a "stop the madness" moment and decided to place singular focus on the goal of every child reading proficiently by 3rd grade. Currently, only 30% of Georgia's students meet that mark.
Insyte was brought on as partners to build a single "theory of change" unifying everyone across the state, as well as three "collective impact" coalitions—one for children whose families don't speak English as their home language, another for children who are deaf/hard of hearing and the third on behalf of all children.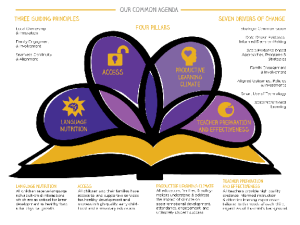 Using the Theory U as a process guide, hundreds of people led by a multi-sector leadership team co-created Get Georgia Reading's theory of change:
The collaborations resulted in a few game-changing prototypes including:
Talk With Me Baby (TWMB) builds the capacity of the GA nursing workforce to deliver "language nutrition," by activating parents as conversation partners with their newborns and babies, closing the 30 million word gap that exists between 3 year olds in "language rich" homes and "language poor" homes.
100 Babies is a first-ever commitment by the state's chief medical officer to guarantee the first 100 babies born deaf/hard of hearing in 2014 a "birth to literacy plan" and redesign systems around those babies' experiences.
The work continues to spread virally, gaining national and international attention. Talk With Me Baby was recently featured on the White House blog.
"To see a live presentation of this case, that was originally part of the Theory U MOOC, watch the video below."
https://plus.google.com/events/chlgpektnmbr2hcfjn8flj2bjkc